Our Armor
About Our Samurai Armor
Iron Mountain Armory custom designs and handcrafts your gusoku (samurai armor sets), yoroi (samurai armor parts), clothing & accessories according to your wishes.  We offer 4 different classes of Samurai Armor to best fit your budget, expectations, and needs. By incorporating both traditional Japanese samurai armor design, with modern tools, our armorers at Iron Mountain Armory have successfully created authentic reproduction samurai armor at the most affordable prices, on the market.
Most of our suits feature the Zunari (head shaped), or the Hachi Goshozan (bowl shaped) style kabuto (helmet) as standard options. However, we can reproduce any samurai kabuto you would like us to craft for you. There are over 1,000 years of human design ingenuity put into the armor we manufacture.

General Features:
Customizable and integratable designs

Full size, adjustable and wearable.

Completely functional

Complete set of instructions for how assemble, and wear your custom yoroi.
Average Seated Display Specifications: Height: 63" Width: 24" Depth: 20" Weight: 30 lbs (with display box)

Shipping Information: All our armor ships in a 18" x 20" x 24" box and weighs an average of 57 lbs (dimensional shipping weight).
4 Different Samurai Armor Classes
DAIMYO YOROI
Daimyo (Warlord Class) are exceptionally handcrafted, from fine-quality materials and with great attention to detail.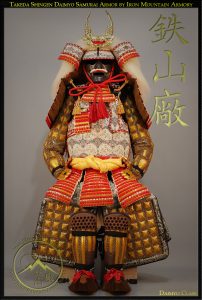 Our masterwork "Daimyo Class" Armors are traditional Edo Era design, crafted to be beautiful works of art and until recently where only sold in Japan. In the Edo Period, the Daimyo spent much of their wealth on embellishing their armor, making it more decorative than functional, for paradeing to and from the capital. Our Daimyo Class series suits, although fully functional, focus more on beauty than battle readiness. We use a mixture of genuine and luxury synthetic materials to help add an unmatched luster and shine to these striking artisan armors.
---
TAISHO YOROI
Tasiho (General) are masterfully crafted by our most experienced armorers
Our "Taisho Class" Armor is the next step up from our "Gashira Class" and the same Gendai yoroi many stores sell in Japan. Each suit is meticulously handcrafted by our most experienced katchû-shi here at Iron Mountain Armory using the highest quality materials and most traditional methods possible.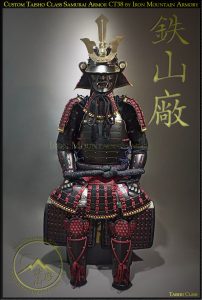 Each suit has been researched and modeled after actual samurai armor in private collections or museum. This helps us ensure they are as accurate and detailed as possible. For example, a single helmet can consist of over 32 different hand-spliced steel plates, individually riveted together. Even the most tiny detail of sewing kikko (small armor plates) onto the shoulder and neck padding is seen to. This also adds extra protection, while keeping comfort and flexibility at the forefront. This class of samurai armor is often crafted for private collectors, museums, historical re-enactors, martial artists and those who demand the highest detail and quality.

The Taisho Class guarantees a more traditional design and includes features such as more traditional crafting techniques, a laminated kabuto, art silk lacing, detailed fittings, higher quality materials and the highest level of attention to detail and quality.
---
GASHIRA YOROI
Gashira (Officer) are crafted by our seasoned armorers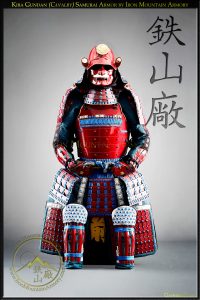 Our "Gashira Class" yoroi are the next step up from our "Kachi Class" and are handcrafted by our experienced katchû-shi (armor smith) at the Iron Mountain Armory, using quality materials and more traditional crafting methods with some modern techniques and tools.

Much like the Taisho Class, each gendai suit has been heavily researched, and a lot of care is put into their historical accuracy. The principle difference between the Gashira-class and Taisho-class, is that the Gashira Class is crafted with the more economical Hachi kabuto which features a bowl style simulated laminate. Our Gashira Class samurai armor is made specifically for collectors, exhibitions, re-enactors, martial artists who want an authentic samurai suit of armor without the added expenses of a more traditional design and crafting methods.

The Gashira class features a more traditional Gendai design over kachi class and include features such as, real animal hair, genuine leather, removable or interchangeable nose, brass fittings, shoulder padding with kikko (armor plating), opposable thumbs, leg support on haidate, extra materials, fittings, riveting, lacing and included yoroi bitsu (storage / display box) which comes with a stand.
---
KACHI YOROI
Kachi (Foot Soldier) are crafted by our skilled armorer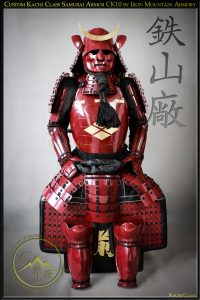 Our "Kachi Class" armor was known as "munition quality armor" and is our basic model. It was offered in response to many of our clients who wanted to own a suit of Samurai armor, but at a more economical price.

This class of armor is crafted using more simple, modern techniques and tools, made with economical synthetic materials. The basic design lacks a removable nose, some brass fittings and some riveting. It also lacks the padding under the shoulders and back to make the armor more comfortable; however this padding can be added separately. Because the armor is made more quickly, there may be slight blemishes in the paint and lacing.

The Kachi Class features a basic but still traditional Gendai design. Modern material, tools, techniques are used to make this yoroi more economical.